JUNEAU EMPIRE – Keeping the light on: Alaska's oldest lighthouse is in dire need of repairs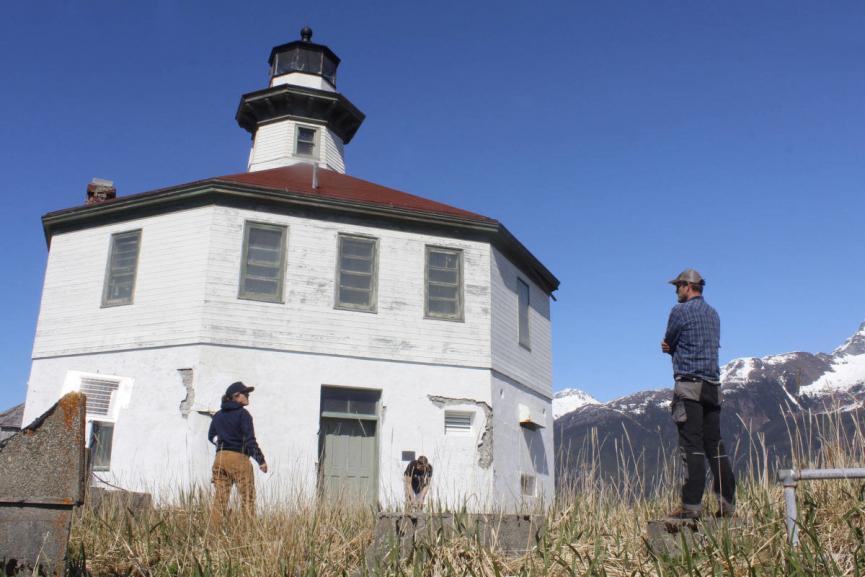 Nonprofit pursuing lease of Eldred Rock Lighthouse
Wednesday, May 1, 2019 9:32am
Every summer, hundreds of thousands of people see Eldred Rock Lighthouse.
Cruise and ferry passengers, as well as locals passing through, can't help but look at the octagonal, white and red structure atop a craggy cliff in the middle of Lynn Canal. If they were able to stop and look closer at the 114-year-old lighthouse, they'd see the bright white paint is peeling — and that's the least of the concerns, Eldred Rock Lighthouse Preservation Association (ERLPA) board member Justin Fantasia said.
"I'm not worried about paint," Fantasia said. "I'm worried about hunks of concrete that are falling off from the building."
Fantasia, a construction expert, was part of a team that went out to the remote lighthouse — which is the oldest original lighthouse in the state — Monday to take stock of what needs to be repaired. It's a daunting task, as the lighthouse has been unmanned since 1973 and has fallen into disrepair without anyone to maintain it.
ERLPA, with the help of the Marine Exchange of Alaska, is starting the process of taking over the lighthouse to better preserve it. The U.S. Coast Guard currently owns it, but ERLPA Executive Director Sue York said she's hoping to work out a lease soon where ERLPA can eventually take over the lighthouse. York, who used to work for the Coast Guard, said she was brought on in large part because of her experience with the Coast Guard in hopes that she could jump through the hoops of the lease process.
Click here to read the full Juneau Empire article: Keeping the light on: Alaska's oldest lighthouse is in dire need of repairs