Mission Statement
Provide information, communications and services to promote safe, secure, efficient and environmentally responsible maritime operations.
In 2000, the MARINE EXCHANGE OF ALASKA (MXAK) - a non-profit organization - was established with the mission (above) to bring the Alaska maritime community together.
---
Daily, MXAK's extensive expertise is used to assist the maritime community in complying with state and federal safety, security and environmental regulations, enhancing maritime safety and environmental protection, aiding in the response to emergencies, and saving the lives of mariners.
---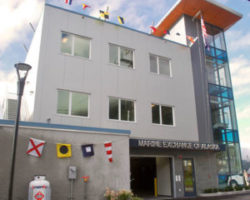 ---
Guided by a Board of Directors representing the diverse Alaska maritime community, MXAK has applied 21st Century technologies to build a "Maritime Safety Net". Critical components include:
---
Automatic Identification System (AIS) vessel tracking - 130+ terrestrial sites and satellite – viewable via PACTRACS.
50+, strategically placed, realtime weather sensors.
A 24x7 Operations Center, which uses the above sensors, to manage 1.5+ million square miles!