Marine Exchange of Alaska Provides Wealth of Information to Those at Sea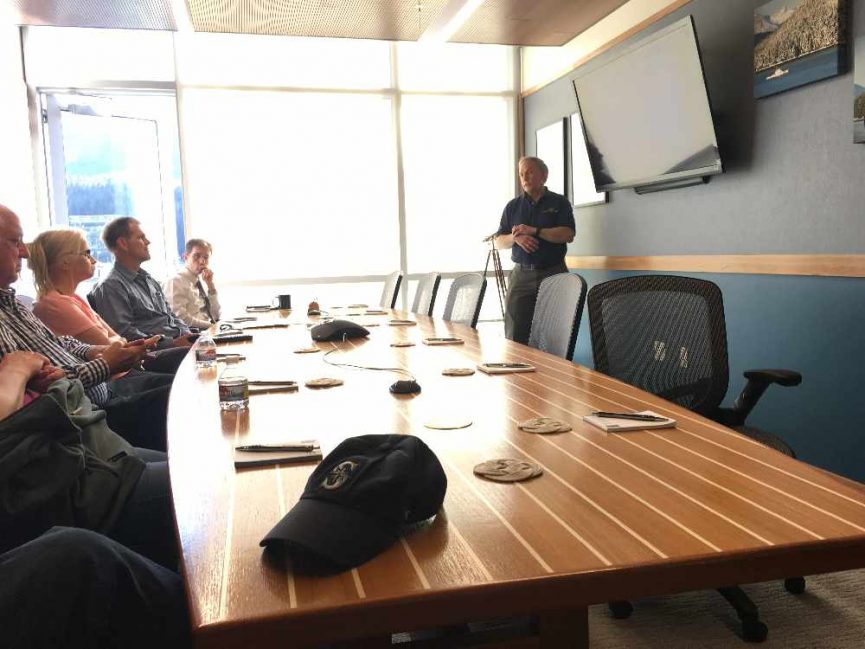 Captain Ed Page detailing the Marine Exchange and its various systems to the Juneau Assembly. Photo by Alex McC
Juneau, AK (KINY) – News of the North was able to tour the Marine Exchange of Alaska center in Juneau to learn how they gather and distribute valuable information.
What seems like a functional building on the waterfront actually houses a wealth of information that is used to foster more efficient ship routes and even potentially save the lives of those in danger. The goal is to have as much information as possible, using satellite and terrestrial equipment, to be able to see warning signs before they happen.
Companies sign contracts with Marine Exchange for various reasons, whether they want to make sure their captains are following routes or keeping to a proper speed limit. Even ships outside of their jurisdiction may be sent help if the crew sees something odd. This is all done as a non-profit maritime organization.
Ed Page, the Executive Director of Marine Exchange of Alaska, gave us the tour of the facility. He summarized what it is he and his staff do.
"In the simplest terms, we are brokering information to the Coast Guard, the State of Alaska, the shipping companies around the world, and the ports and harbors on the locations of vessels in real time and weather information."
"Sometimes that information is used just to kind of coordinate and increase efficiency of operations moving cargo on or off, or making sure you can receive the vessel when they arrive in port and not be surprised if they are there all of a sudden or wait many hours for it to arrive, but in other cases it's used to validate and help compel a vessel's adherence to environmental protective measures like speed limits in whale protected areas."
One of the main reasons for the tour was to show the CBJ Assembly around the facilities. Page explained why it was important to show city officials the systems in place. "Assembly being leaders of our community, they probably should know what is going on in this building on the waterfront. They had some idea, but I think it's really for them to better understand that this very unique and impactful operation is in Juneau."
"It's impactful for several different reasons like shipping in Alaska, safety (it has been responsible for saving many lives), but also impactful on our communities for providing jobs and opportunities. Just building the building brings jobs and labor."
"The fact that we have this world class vessel tracking center in Juneau is something we should all be proud of," Page said matter-of-factly.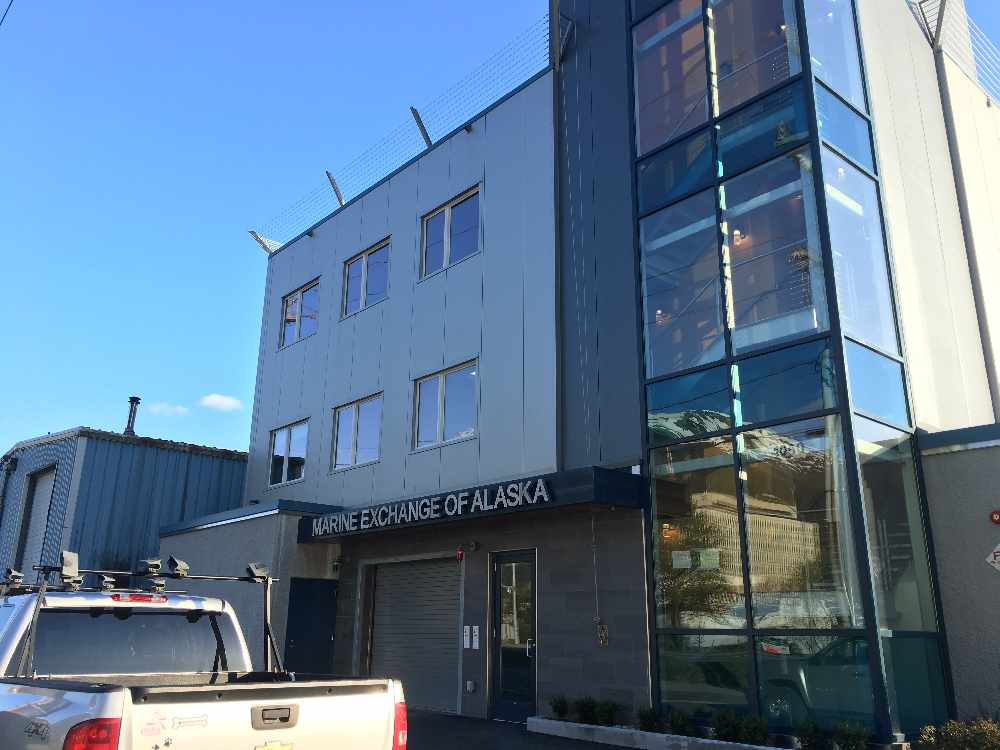 We asked Page on what the challenges of running the Marine Exchange are.
"I think one of our biggest challenges is how do you make sure this is all efficient? Things are dynamic; a ship doesn't always show up like a train. Variables of weather and currents and other circumstances, that can be instantly provided to a host of people by just simply looking at our smartphones are computers without having to call up a ship and finding where they are."
He couldn't stress enough on how valuable the information they have can be to the marine industry.
"When you realize how impactful major marine casualties such as Exxon Valdez or the Costa Concordia can be on the environment and people's lives and cargo. We realized that with information, we can substantially mitigate the potential for that happening and so early notification of something's going wrong really allows you to intervene and hopefully prevent things going wrong or at least dramatically so."
Just making sure that things are distributed properly can really make a difference in the lives of those at sea.
"So that's the biggest benefit and the biggest challenge is having lots of good information going the right people."
"All this information goes to the Coast Guards, our headquarters here in Juneau, up in Anchorage, other offices around the state, and even back in D.C. They all have this information, so that when things start going wrong, they can send appropriate resources whether a Coast Guard helicopter or located vessel nearby, whatever is needed."
More information can be found on the Marine Exchange of Alaska website. Page told us that they also welcome phone calls and tours and have been accommodating in the past with all sorts of groups from girl scouts to legislators.