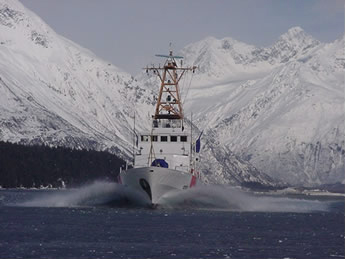 Marine Inspection
Coast Guard Regulations regarding Inspection of Vessels, Licensing of Marine Personnel and Certification of Seamen.
The links below lead to the different sections of Title 46 Code of Federal Regulations which apply to traditional marine inspection functions.
These are the regulations enforced by Marine Inspectors under the direction of the Officer in Charge, Marine Inspection.
Title 46 Shipping
Chapter I Coast Guard, Department of Homeland Security
Subchapter A Procedures Applicable to the Public
Part 1 Organization, General Course and Methods Governing Marine Safety Functions
Part 3 Designation of Oceanographic Research Vessels
Part 4 Marine Casualties and Investigations
Part 5 Marine Investigation Regulations - Personnel Action
Part 6 Waivers of Navigation and Vessel Inspection Laws and Regulations
Part 8 Vessel Inspection Alternatives
Part 9 Extra Compensation for Overtime Services
Subchapter B Merchant Marine Officers and Seamen
Part 10 Merchant Mariner Credential
Part 11 Requirements for Officer Endorsements
Part 12 Requirements for Rating Endorsements
Part 13 Certification of Tankermen
Part 14 Shipment and Discharge of Merchant Mariners
Subchapter C Uninspected Vessels
Part 28 Requirements for Commercial Fishing Industry Vessels
Subchapter D Tank Vessels
Part 31 Inspection and Certification
Part 32 Special Equipment, Machinery and Hull Requirements
Part 34 Firefighting Equipment
Part 36 Elevated Temperature Cargoes
Part 38 Liquefied Flammable Gases
Subchapter E Load Lines
Part 42 Domestic and Foreign Voyages by Sea
Part 44 Special Service Limited Domestic Voyages
Part 45 Great Lakes Load Lines
Part 46 Subdivision Load Lines for Passenger Vessels
Part 47 Combination Load Lines
Subchapter F Marine Engineering
Part 56 Piping Systems and Appurtenances
Part 58 Main and Auxiliary Machinery and Related Systems
Part 59 Repairs to Boilers, Pressure Vessels and Appurtenances
Part 61 Periodic Tests and Inspections
Part 62 Vital System Automation
Part 63 Automatic Auxiliary Boilers
Part 64 Marine Portable Tanks and Cargo Handling Systems
Subchapter G Documentation and Measurement of Vessels
Part 67 Documentation of Vessels
Part 68 Documentation of Vessels Pursuant to Extraordinary Legislative Grants
Part 69 Measurement of Vessels
Subchapter H Passenger Vessels
Part 71 Inspection and Certification
Part 72 Construction and Arrangement
Part 76 Fire Protection Equipment
Part 77 Vessel Control and Miscellaneous Systems and Equipment
Part 80 Disclosure of Safety Standards and Country of Registry
Subchapter I Cargo and Miscellaneous Vessels
Part 91 Inspection and Certification
Part 92 Construction and Arrangement
Part 95 Fire Protection Equipment
Part 96 Vessel Control and Miscellaneous Systems and Equipment
Part 98 Special Construction, Arrangement, and Other Provisions for Certain Dangerous Cargoes in Bulk
Part 105 Commercial Fishing Vessels Dispensing Petroleum Products
Subchapter I-A Mobile Offshore Drilling Units
Part 107 Inspection and Certification
Subchapter J Electrical Engineering
Part 111 Electric Systems - General Requirements
Part 112 Emergency Lighting and Power Systems
Part 113 Communication and Alarm Systems and Equipment
Subchapter K Small Passenger Vessels Carrying More than 150 Passengers or with Overnight Accommodations for More than 49 Passengers
Part 115 Inspection and Certification
Part 116 Construction and Arrangement
Part 117 Lifesaving Equipment and Arrangements
Part 118 Fire Protection Equipment
Part 119 Machinery Installation
Part 120 Electrical Installation
Part 121 Vessel Control and Miscellaneous Systems and Equipment
Subchapter L Offshore Supply Vessels
Part 126 Inspection and Certification
Part 127 Construction and Arrangements
Part 128 Marine Engineering: Equipment and Systems
Part 129 Electrical Installations
Part 130 Vessel Control and Miscellaneous Equipment and Systems
Part 132 Fire Protection Equipment
Part 134 Added Provisions for Liftboats
Subchapter N - Dangerous Cargoes
Part 147 Hazardous Ship's Stores
Part 147A Interim Regulations for Shipboard Fumigation
Part 148 Carriage of Bulk Solid Materials that Require Special Handling
Subchapter O - Certain Bulk Dangerous Cargoes
Part 150 Compatibility of Cargoes
Part 151 Barges Carrying Bulk Liquid Hazardous Material Cargoes
Part 153 Ships Carrying Bulk Liquid, Liquefied Gas, or Compressed Gas Hazardous Materials
Part 154 Safety Standards for Self-Propelled Vessels Carrying Bulk Liquefied Gases
Subchapter Q Equipment, Construction, and Materials: Specifications and Approval
Part 159 Approval of Equipment and Materials
Part 162 Engineering Equipment
Subchapter R Nautical Schools
Part 166 Designation and Approval of Nautical School Ships
Part 167 Public Nautical School Ships
Part 168 Civilian Nautical School Vessels
Part 169 Sailing School Vessels
Subchapter S Subdivision and Stability
Part 170 Stability Requirements for all Inspected Vessels
Part 171 Special Rules Pertaining to Vessels Carrying Passengers
Part 172 Special rules Pertaining to Bulk Cargoes
Part 173 Special Rules Partaining to Vessel Use
Part 174 Special Rules Pertaining to Specific Vessel Types
Subchapter T Small Passenger Vessels (Under 100 Gross Tons)
Part 176 Inspection and Certification
Part 177 Construction and Arrangement
Part 178 Intact Stability and Seaworthiness
Part 179 Subdivision, Damage Stability, and Watertight Integrity
Part 180 Lifesaving Equipment and Arrangements
Part 181 Fire Protection Equipment
Part 182 Machinery Installation
Part 183 Electrical Installation
Part 184 Vessel Control and Miscellaneous Systems and Equipment
Subchapter U Oceanographic Research Vessels
Part 189 Inspection and Certification
Part 190 Construction and Arrangement
Part 193 Fire Protection Equipment
Part 194 Handling, Use, and Control of Explosives and Other Hazardous Materials
Part 195 Vessel Control and Miscellaneous Systems and Equipment
Subchapter V Marine Occupational Safety and Health Standards
Subchapter W Lifesaving Appliances and Arrangements
---
---