~6/1/2022 – PACTRACS Users,
We had an update to the Vessel Display system last night. One of the updates was to the version on your ipad or tablet, as there were some issues with losing targets when zooming in and out. Unfortunately, that has not been alleviated and is still being worked on. In the meantime, try these steps below which may help with your mobile devices.
1) Go to the "Settings" page on the iPhone. Scroll down and press "Safari".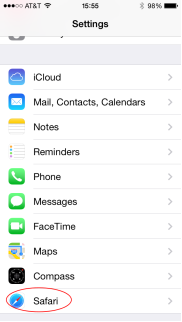 2) Ensure the "Block Cookies" line says "Never", Press "Clear History" and Press "Clear Cookies and Data if that option is present"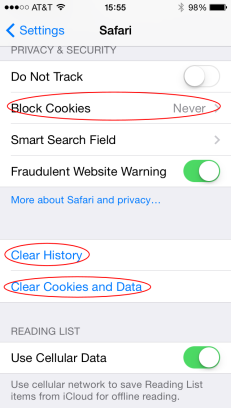 Then restart phone/tablet. Log-In and see if issues have been resolved.
---
3/15/2022 – Welcome to the new messaging board. This is a way for us to communicate with PACTRACS users in a more efficient way then to send out 500 emails. When we have an item to communicate, we will highlight the number 1 icon on the PACTRACS toolbar in red, like below;

Letting you all know there is a message awaiting. When you click on the number 1 icon it should pop-up this message board letting you know the information. This message board will include the current message in black and historical messages with dates greyed out. Once you click on the number 1 icon it should then remove the red highlight.